Tech giant Google provided a donation in kind worth £3,302 (approximately $4,060) to the UK Member of Parliament (MP) that recently sent letters to Rumble, TikTok, Facebook, and X that pressured them to demonetize comedian and commentator Russell Brand after anonymous sexual assault allegations were made against him.
The MP, Dame Caroline Dinenage, who chairs the Culture, Media and Sport Committee in the UK Parliament, received two tickets with hospitality and accommodation as guests of YouTube at the Glastonbury Festival of Contemporary Arts 2023 on June 26, 2023. This donation in kind from Google was valued at £3,302.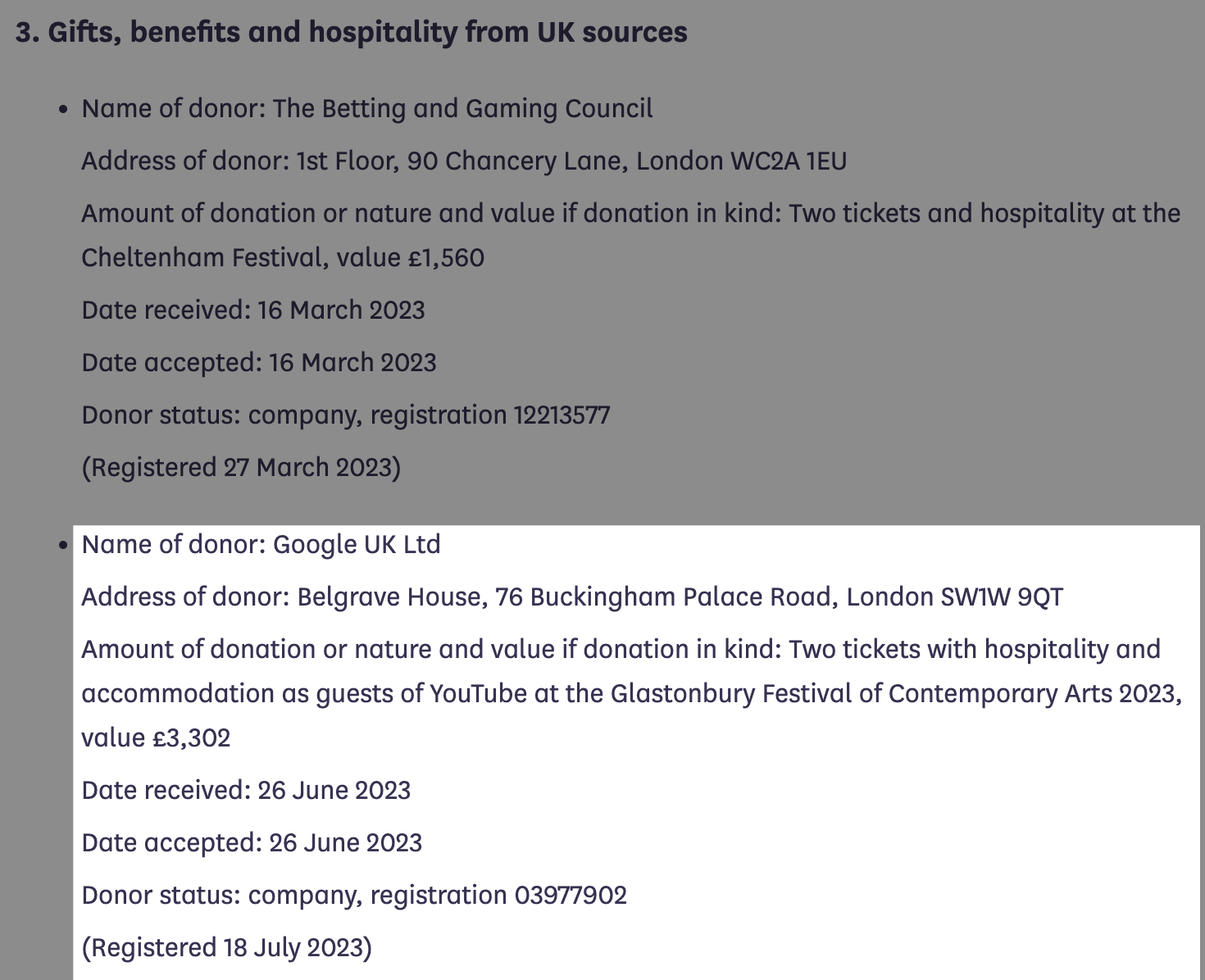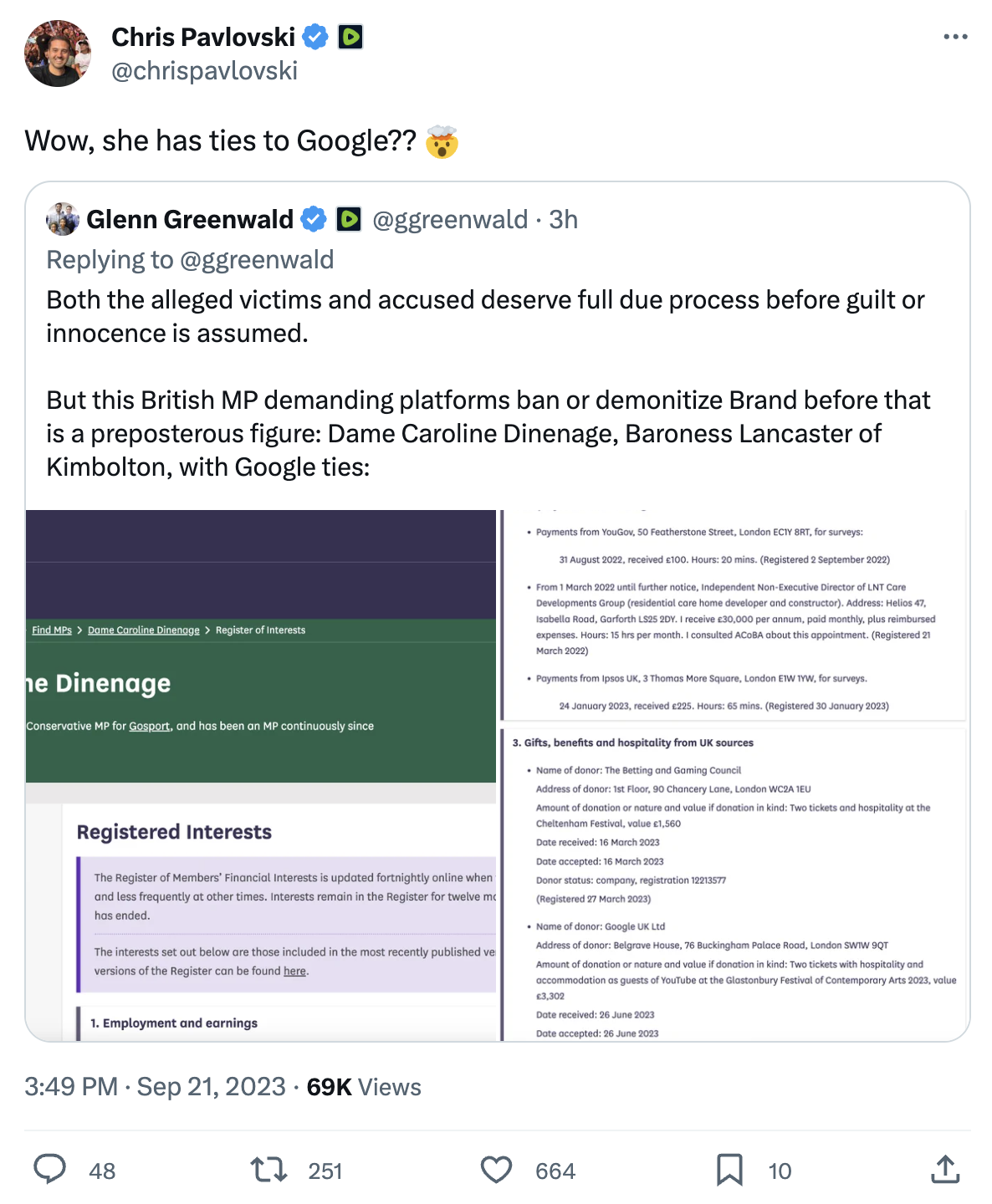 Dinenage is one of the architects of the Online Safety Bill, a sweeping surveillance and censorship law that was recently passed. She also coordinated Covid "misinformation" fighting efforts in the UK.
Not only did her letter to the tech platforms push them to strip Brand of monetization, but it also questioned what the platforms were doing to prevent other creators from engaging in "inappropriate" behavior, regardless of whether those creators have been charged or convicted of a crime.
"We would also like to know what Rumble is doing to ensure that creators are not able to use the platform to undermine the welfare of victims of inappropriate and potentially illegal behaviour," Dinenage said in the letter to Rumble.
Google, which hasn't received a letter from Dinenage or the Culture, Media and Sport Committee, demonetized Brand's YouTube channel earlier this week, despite Brand having no content violations on the platform and not being charged or convicted of any of the allegations made against him.
Dinenage's letters to Rumble, Facebook, and X also referenced YouTube's decision and questioned whether these platforms intended to "join YouTube in suspending Mr Brand's ability to earn money on the platform."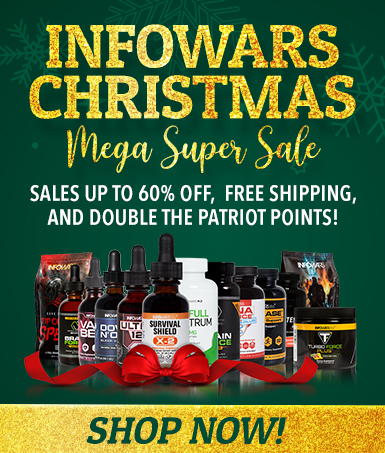 Google is a competitor to Rumble, with both YouTube and Rumble allowing creators to upload videos, live stream, and monetize their content. Rumble has taken legal action against Google, alleging that the tech giant has promoted its own platform, YouTube, ahead of competitors.
The antitrust concerns raised in Rumble's lawsuit against Google were recently highlighted in a report that accused Google Search of burying Rumble's exclusive live stream of the first Republican presidential debate.
While YouTube demonetized Brand, Rumble CEO Chris Pavlovski responded to Dinenage's letter by reiterating Rumble's commitment to a free internet and noting that the allegations against Brand have "nothing to do with content on Rumble's platform."
Pavlovski added that Rumble regards it as "deeply inappropriate and dangerous that the UK Parliament would attempt to control who is allowed to speak on our platform or to earn a living from doing so" and rejected the UK Parliament's requests.
The Culture, Media and Sport Committee and YouTube aren't the only entities to target Brand's content since the allegations against him surfaced. The BBC, Channel 4, and Paramount+ have also removed his content from their streaming platforms.